Introduction & History
Welcome to udayapur cement UDHYOG ltd (UCIL).
"We sell our product under the brand name of "Gaida Cement", one of the best in Nepal, and known for its quality and strength."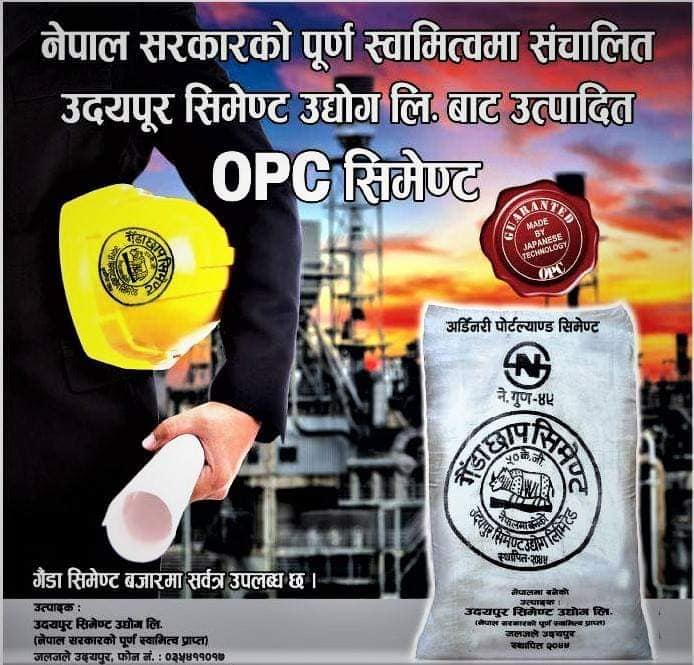 Established in 2044.
UCIL was established on 31 Jestha,2044 (14th June,1987) in
Udayapur District of eastern region, which is nearly 200Km for Jogbani Border India.
Project Implementation on Full turn Key basis.
Consulting Engineer: Onoda Engineering Co.Ltd.Japan.
Turnkey Contractor: Consortium of Kawasaki Heavy Industries Ltd and Tomen Corporation –Japan.
Annual Requirements.
Raw Materials:
Lime Stone:3,30,000 MT.
IronOre :4,000 MT.
Clay :57,000~82,500 MT.
Gypsum :10,500 MT.
Silica Sand : up to 21,000MT.
Utilities:
Fuel requirement (i) Coal 50,000MT/Year (ii) Furnace Oil :12,000 KL.
Electricity: 8000KW.
Water 1500 M3/ Day.
What started off in 2044 BS was a historic event for Nepal as Udayapur Cement Industry was established in order to fulfill its quality Cement Product its Citizens.
---
Ropeway
Limestone available at Sindhali-hill of Udaypur district is extracted by open cast mining. The Limestone is drilled, blasted, loaded onto a dump truck and transported to the primary crusher.
Limestone is reduced to less than 100 mm size in the primary crusher. It is then transported to the plant site at Jaljale by 13.8 KM long bicable ropeway.
---
Limestone Feed Hopper
The Limestone is further reduced to 25 mm size in the secondary crusher. It is then conveyed to preblending unit for homogenization and storage.
The homogenized Limestone is then conveyed to a Limestone Feed Hopper. Other feed hoppers contain iron ore, clay and silica sand respectively.
---
Raw Mill
These raw materials are fed in a predetermined proportion into the raw mill for grinding. The finely ground raw meal is conveyed to the blending and storage silo where through blending of this meal is done by aeration.
The raw meal from the silo is conveyed to the rotary kiln through preheater tower. Heat transfer takes place between the kiln exhaust gas and the raw meal in the preheater tower.
---
Clinkering
When the preheated raw meal is burnt upto the tempreture of 1500oC, clinker is produced. Burning can be done either by pulverized coal or by furnace oil.
Clinker thus formed is cooled down to about 100oC in the grate cooler and conveyed by bucket elevator to the clinker storage silo.
---
Packing Plant
Cement is produced when the clinker is mixed with the requisite amount of gypsum and finely ground in the cement mill.
Cement so produced is collected in the cement storage silo. After that, the cement is conveyed to the packing plant for packing in jute or polyethylene bag. It is then finally sent to the market for sale and distribution.
---
Laboratory
A well equipped laboratory with standard equipments including X-ray analyser is provided for quality control in order to produce high and uniform quality cement.
A well planned waste disposal system in the quarry and a range of equipments including the electrostatic precipitator for dust control in the plant has limited and efficiently controlled the pollution, environmental hazards and ecological disturbances.
---